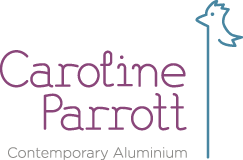 The Artist
When I attending my university interview I said I wanted to make things that made people happy. Always making and creating from a young age, I had a fascination with constructing and engineering, splashing dyes around and cutting Sindy's hair which shows my age!
came from a family of creatives, my father a Design Engineer for the RNLI, my mother a keen textile artist and my sister drawing and sewing are her thing and she will always be the neat one.
I juggled my Applied Arts Degree and running my creative business with a job working for an arts organisation managing their education programme, then in 2017 I took the plunge and became a full time maker. I share my little studio shop with long time friend and fantastic jeweller Wendy Nutt, based at Walford Mill in the beautiful market town of Wimborne in Dorset.
I love working with aluminium, hand printing and dyeing the surface and experimenting with designs, colour, recycling and working around it's limitations as a metal, I love to tackle big projects, small projects, collaborations and the unexpected.
In my spare time I'm a fan of Cornwall and all things sea based, surfing badly, rowing without the ability to steer and kayaking when the waters are calm.
In 2019 I created a gorilla sculpture for Go Wild Gorilla's, a project for Jersey Zoo. My gorilla, Zeus, took 4 months to create, 15 hour days, 7 days a week, I'm so proud of him and he raised an amazing £54,000 in his sale for the new gorilla enclosure at the zoo.