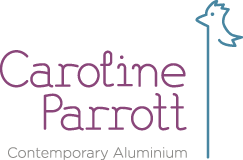 Kaleidoscopes
In 2010 I started to explore a new dimension to my work, in the form of installation pieces.
A swarm of butterflies can be known as a Kaleidoscope. Following my work for Julia's House Children's Hospice, the image of the butterfly was continuing to inspire me and I began to think about the idea of creating swarms of aluminium butterflies in as many places as possible.
I approached Durlston Country Park in the Spring about the idea and arranged to spend 6 days in the summer working with the public to dye and print on the metal, which I then cut in to the shapes of all 35 species found at the park. The project was a huge success with over 300 butterflies now adorning the fence at the visitor centre. Swarms have since been created at Poole Literary Festival, Walford Mill Crafts, Moors Valley Country Park, Cygnets Preschool and for Pride in Bournemouth - with future plans to work with groups to produce installations that embrace other elements of the natural world. Please contact me if you're keen to get involved and create you're own unique artwork.