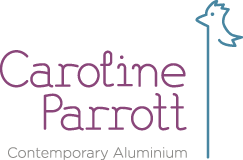 Home Accents
Caroline has always been inspired to create pieces of artwork for interiors. Her contemporary aluminium design work compliments almost all environments.
As an artist Caroline's work is constantly evolving and moving in new directions. She finds inspiration in many of her surroundings and enjoys creating limited items that are at home both inside and outdoors.
If you would like to receive email updates on new collections please email Caroline.