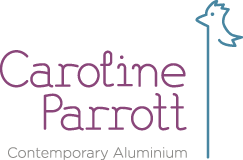 Caroline Parrott & Debby Kirby
Debby has worked as a silk weaver since 1984, after completing a degree in woven textiles at the Surrey Institute of Art and Design. She moved to her present workshop at Walford Mill Crafts in 1986 where she works on a Harris countermarch loom.
Debby produces a variety of luxurious silk items using her own hand-dyed threads: scarves, cushions, bags and a selection of accessories. Each silk warp is hand-dyed by Debby and this ensures that no two items are the same. She also prints watercolour paper which is then cut into strips and woven through the silk threads. These make interesting images, both framed and as hangings.
Debby Kirby and Caroline Parrott have collaborated on pieces of work which combine hand dyed and printed aluminium by Caroline and silk threads dyed by Debby to compliment each metal piece. The strips of aluminium are woven together by Debby on her loom in her studio at Walford Mill.
Debby and Caroline also create pendants using Debby's unique and printed papers.
Caroline has also worked with jewellery designer Emma Leonard, Printmaker Alison C. Board and Furniture Maker Karen Hansen